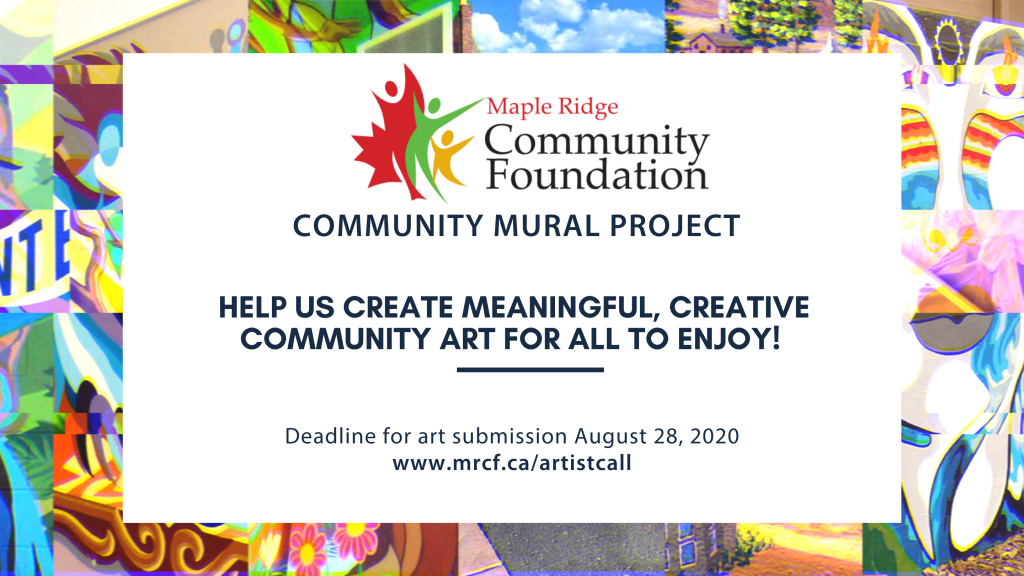 The Maple Ridge Community Foundation is seeking submissions of art for consideration for our Community Mural project in Hammond!
We are pleased to invite Maple Ridge artists to submit artwork to be considered for our 'We are Maple Ridge' collage-style murals, which will be digitally printed in large format vinyl and permanently installed on a new building in Hammond this September 2020.
9 pieces of artwork from local artists will be chosen by our jury to be included in the collage designs that highlight some of the unique qualities of Maple Ridge and the Hammond community.
THEMES FOR ART TO BE CONSIDERED
Based on the results of a community-wide survey conducted in July, the mural design will feature artwork that fits within the top 4 voted themes. These themes are:
Historical elements of Maple Ridge, particularly Hammond
Katzie and Kwantlen First Nation history and people
Natural landscape, flora and fauna found in Maple Ridge
The people in our community, celebrating the variety of cultures, ages and genders
Artists should submit art that meets one or more of these themes and include details in their submission on how they feel their art falls into the theme(s).

GUIDELINES FOR SUBMISSION:
Artists must be able to submit HIGH-RESOLUTION, LARGE FILE versions of their artwork that can be printed large scale (artwork must be CMYK format with minimum 300 dpi quality. ie: scanned OR photograph taken using DSLR camera on highest file quality setting. Smartphone images or low resolution will not be accepted). If you have questions about if your image quality is acceptable please email executive@mrcf.ca
Artists may submit up to 3 images for jury
For application purposes, artists may submit a low-resolution image, if the image is chosen for the project the artist must then submit their large file, high-resolution image
DETAILS OF MURAL INSTALLATION:
 2 large mural images printed in vinyl will be adhered to the concrete walls of a new building at 11307 Maple Cresent in the Hammond area of Maple Ridge
Murals will be located well above ground level near the roofline of the building and will be approximately 50′ X 19′ and 50′ X 13′ (see image)
Images will be assembled in a collage format and artist images may be cropped to best suit the overall design
HONORARIUM:
Artists whose artwork is chosen by the jury for use in the mural will receive an $800 per image honorarium.
Artists may choose to donate the honorarium to the Maple Ridge Community Foundation, for which they will be recognized and provided with a tax receipt
DEADLINE FOR SUBMISSION:  End of day Friday, August 28, 2020