History of the Maple Ridge Community Foundation
Think of the Community Foundation as Maple Ridge's permanent savings account…
Maple Ridge Community Foundation (MRCF) manages a permanent endowment in order to respond to emerging and changing community needs today and in the future. This allows us to be able to provide a vehicle and service for donors with varied interests and at various levels of charitable giving.
MRCF accumulates capital through gifts from individuals, families, and businesses. The annual investment income on this capital is granted to charitable organizations in Maple Ridge that address needs in education, health, recreation, the environment and the arts. Since its inception, Maple Ridge Community Foundation has contributed tens of thousands of dollars in grants back to local non-profit organizations.
A closer look at what a "Community Foundation" is…
A Community Foundation is a collection of dozens of separately endowed funds established by individuals, families and corporations – essentially a community of donors – to enhance the quality of life in a local area. These funds are pooled and invested by a Board of Directors made up of community leaders. Any income generated is distributed as grants within the community.
Community Foundations stand apart within the field of philanthropy through their ability to grow – to bring into philanthropy an infinite number of donors, both large and small. Local decision-making and control brings philanthropy within the reach of all people, and in so doing, builds capacity for philanthropy itself.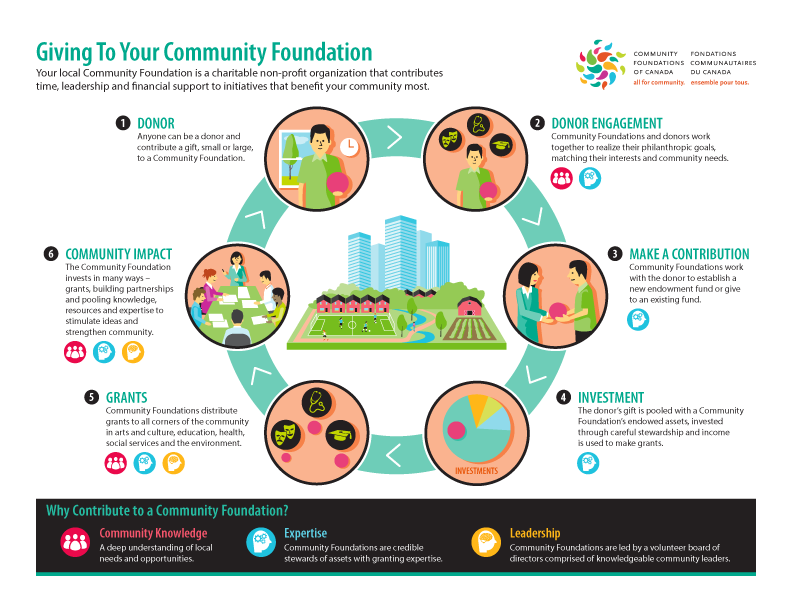 The first community foundation began in Cleveland in 1914, and 10 years later Winnipeg established the first Canadian foundation.
There are now almost 450 Community Foundations throughout North America, with assets of more than $4.5 billion assisting the lives of 100 million people.
The Vancouver Foundation, established in 1942, has assets of almost $600 million and is able to return millions annually in grant funding to the community.
Community Foundations are the fastest growing form of philanthropy in North America today, and often are in the vanguard of charitable giving.
Community Foundations were among the first to respond to the crisis in health care, the devastation of AIDS and complex educational issues.