The COVID-19 pandemic continues to have a disproportionate impact on people experiencing heightened vulnerability in Canada. Since the pandemic was declared over six months ago, community-based charities and non-profit organizations have been working tirelessly to provide emergency support, in particular to individuals and communities experiencing heightened vulnerability.
The Government of Canada's $350 million Emergency Community Support Fund (ECSF) is helping community organizations adapt frontline services to better meet the needs of people experiencing heightened vulnerability during the COVID-19 pandemic.
Originally launched on May 19, 2020, the Government of Canada's new Emergency Community Support Fund (ECSF) first round of funding supported projects in every province and territory and for every vulnerable group. The Fund's three intermediaries – Community Foundations of Canada, the Canadian Red Cross and United Way Centraide Canada – combined their national reach and local expertise to flow money quickly to where it was most needed.aims to provide additional and much-needed assistance to charities and non-profit organizations serving vulnerable populations.
The balance of the ECSF is now being made available to support communities continuing to address the impact of the pandemic, and the Maple Ridge Community Foundation will be taking part in this second round of funding. Qualified donees can begin submitting applications via the National portal from October 5 until October 30, 2020. We are proud to be working with CFC and the Government of Canada to deliver funding locally in Maple Ridge and surrounding areas to ensure that our most vulnerable citizens are safe and healthy.
What is a Qualified Donee?
The Emergency Community Support Fund (ECSF) run by Community Foundations of Canada (CFC) will support qualified donees in running projects at the community level that serve vulnerable populations that have been especially affected by COVID-19. Eligible projects include ongoing programs that meet the eligibility criteria.
Applicants will be required to share how their project assists vulnerable populations, the populations they serve, and the impact of the project on the community.
Examples of qualified donees include:
registered charities;
registered Canadian amateur athletic associations;
registered Canadian municipalities;
registered municipal or public bodies performing a function of government in Canada.
Those ineligible to apply include:
Individuals
the Government of Canada (federal government);
provincial and territorial governments;
the Crown; and
the United Nations.
Qualified donees must be registered on the CRA's list of qualified donees.
What is an Eligible Project?
The ESCF will provide immediate financial support for projects that are serving vulnerable populations as they manage the impacts of COVID-19. Qualified donees may apply for more than one grant at the local level, as long as each application describes a distinct project and there is no duplication of eligible costs across multiple projects. Applicants to the National/Provincial Stream can only submit one application.
Registered charities and other qualified donees can apply through community foundations for projects that:
Clearly address a pressing social inclusion or well-being need caused by COVID-19;
Serve one or more vulnerable groups such as newcomers, refugees, women & girls, official language minority communities, LGBTQ2 people, Indigenous people and racialized people such as Black Canadian, Chinese and South Asian and others.
Will be completed before March 31, 2021.
Organizations that submitted applications in the first round are welcome to re-apply.
If your organization submitted an application but was declined due to lack of funding at the time, we invite you to reapply.
Please review the Applicant Guide for full details.
Application Process
If you have a project that matches these criteria, the application is designed to be straightforward and efficient.  Complete the online application, which should take about 30 minutes. It has some brief questions about your project and the people your organization is supporting.
Applications are due by 11:59 PM PST on October 30, 2020.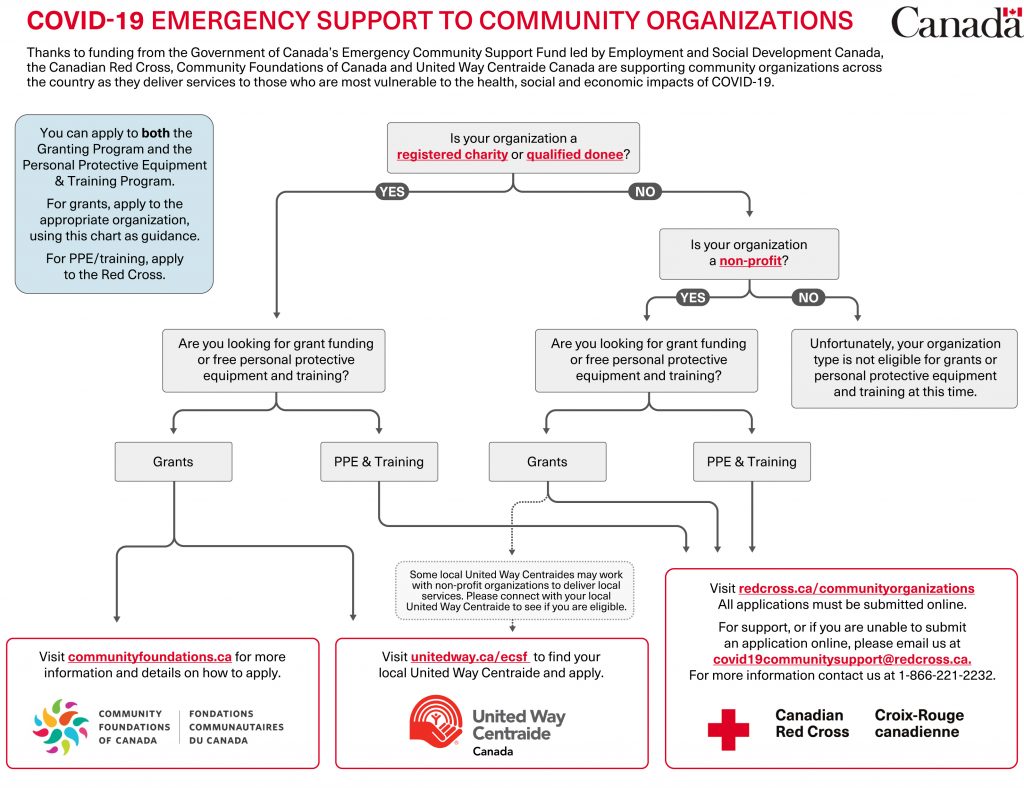 ---
Streamlined Reporting
Reporting requirements for projects approved for funding will be as light as possible – we know community-based organizations have important work to deliver right now. This process includes a short description of the outcomes and, once you have finished the project, a brief report due by April 1, 2021.
Community foundations are working with United Way Centraide Canada and the Canadian Red Cross to distribute the ECSF. You can only receive ECSF funding from one of us for the same project costs.
Where Should Provincial and National Applicants Apply?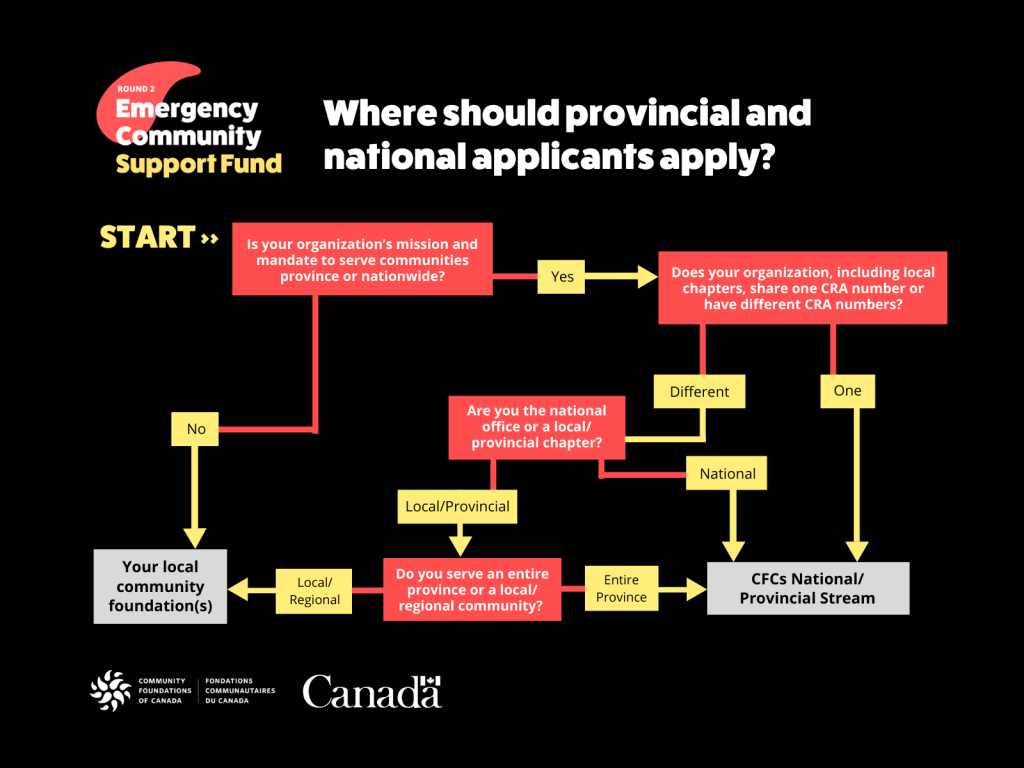 Quick Links